Ion Exchange/Media Filtration
Providing high-quality and customized solutions for Ion Exchange/Media Filtration systems.
We have successfully executed various projects across different industries, including food and beverage, pharmaceutical, and chemical. Explore our Ion Exchange/Media Filtration projects to see how we have helped our clients achieve their water treatment goals.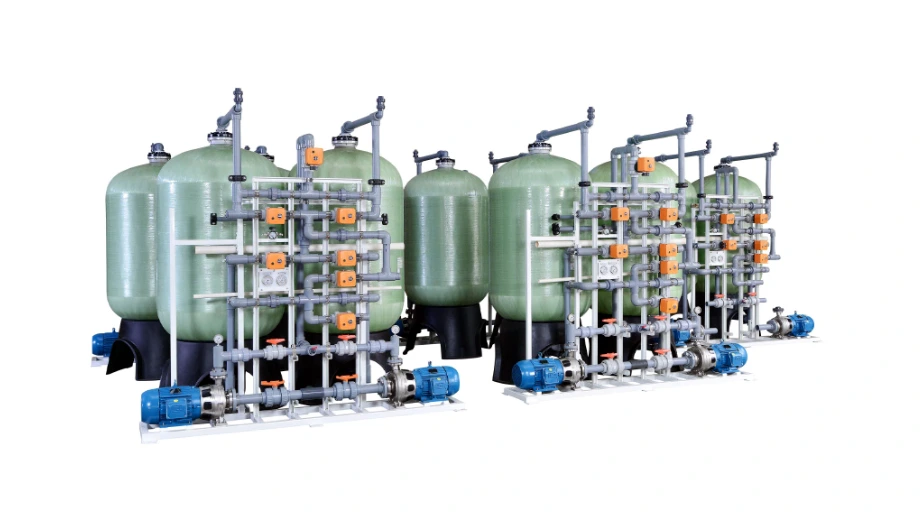 Qatar
2 x 10000 m3/day [2 x 1833 GPM]
Al-Kahrana and Um Barkaah Temporary Treatment Plant
Our Tertiary Filtration Systems consist of 18 water filters in 108″ steel tanks, with duty/standby pumps and air blowers, interconnecting piping, and an HMI/PLC panel. Ideal for efficient water filtration.
Turkey
4080 m3/day [750 GPM]
Kent Gida Maddeleri Project
The Softening and Filtration Systems comprise advanced eight water filters and twin softeners, with 63" diameter fiberglass tanks for filtration and 42" diameter fiberglass tanks for softening. This system is designed to effectively remove impurities and improve water quality.
Kuwait
3936 m3/day [720 GPM]
Ministry of Defense
Softening and Filtration Systems with a duplex water softener and two-duty carbon filters. The system features 78" diameter steel tanks for softening and 72" diameter steel tanks for carbon filtration, ensuring clean and high-quality water for your needs.
Turkey
3600 m3/day [660 GPM]
Ipek Kagit
Softening Systems with three water softeners (2 duty/ 1 standby) feature 63" diameter fiberglass tanks, fully automatic with pneumatically actuated valves and PLC control. Enjoy the convenience of high-quality water for your needs.
Jordan
3600 m3/day [660 GPM]
Arab Potash Co.
Multi-Media Filters. This equipment includes four steel tanks with a diameter of 78 inches, featuring high-quality multi-media filters. The tanks are designed with manual butterfly valves for easy operation and maintenance.
Iraq, Hilla
2880 m3/day [528 GPM]
Ministry Of Industry and Minerals
The Intake Water Filtration Systems are essential in ensuring the quality of water entering a facility. This equipment includes six water filters housed in 72″ diameter FRP tanks, which provide effective removal of impurities and contaminants. The systems also feature an HMI/PLC panel.
South Korea
2839 m3/day [750,000 GPD]
US Army Camp Stanley
Nitrate Removal System utilizing Ion Exchange (IX) process. This fully equipped unit includes a brine regeneration system, a complete Ion Exchange unit, and a PLC control panel for optimal performance.
Columbia
2736 m3/day [500 GPM]
Emcali Filtration Unit
High-Capacity Water Filtration System includes duplex multi-media filters with 90" diameter steel tanks, complete with feed pumps, backwash pumps, air scouring blowers, and a coagulant feed system. It features fully automatic operation with PLC control for ease of use and reliability.
Kuwait
1843 m3/day [338 GPM]
Arcent-KU
Tertiary Filtration Units consisting of quadruplex multicell filters in 48″ diameter steel tanks. The equipment is fully automated with pneumatically actuated valves and PLC control, ensuring efficient and high-quality filtration for your needs.
Kuwait
1025 to 3,145 m3/day [188 to 577 GPM]
Hilton Resort
A potable Water Filtration System includes 3 water softeners, 5-micron cartridge filters, and multimedia filters ranging from 48" to 84" in diameter. Designed for final potable water use, the system ensures high-quality and safe drinking water.
Kuwait
1728 m3/day [317 GPM]
Al Hamra Mixed-Use Complex
Central Water Filters include three (2 duty/1 standby) filters with 54" diameter ASME coded and stamped Stainless Steel 316L tanks. It is fully automatic with motorized valves and PLC control, ensuring efficient filtration of water for your needs.
USA
1632 m3/day [2 x150 GPM]
Tech. Contreras Nogales Sonora Softener
Parallel Softener Units featuring water softening equipment with the parallel operation, 48" diameter steel tanks, and complete regeneration equipment using the Ion exchange (IX) process.
USA, Hawaii
1092 m3/day [200 GPM]
Hawaiian Commercial & Sugar Co.
Boiler Feed Water Demineralizer System utilizing the Ion Exchange (IX) process. This two-bed system is equipped with activated carbon pre-filtration and chemical regeneration systems for high-quality demineralized water.
Need Customized Ion Exchange/Media Filtration Solutions?
Send us a message or call our office with any inquiries you have.