Water scarcity is a growing concern globally, and Qatar is no exception. The country's arid climate and lack of natural freshwater resources have led to a significant reliance on desalination technologies to meet its water needs. However, desalination is energy-intensive and can have adverse environmental impacts. This is where the Containerized Brackish Water Reverse Osmosis (RO) System comes in as a sustainable and cost-effective solution.
Enviromatch, a leading environmental solutions provider, has designed and supplied a 50,000 gal/day Containerized Brackish Water RO System in Qatar. The system's unique feature is its containerized design, which allows for easy transportation and installation, making it ideal for remote areas with limited access to freshwater sources. Let's delve deeper into the components that make up this game-changing system.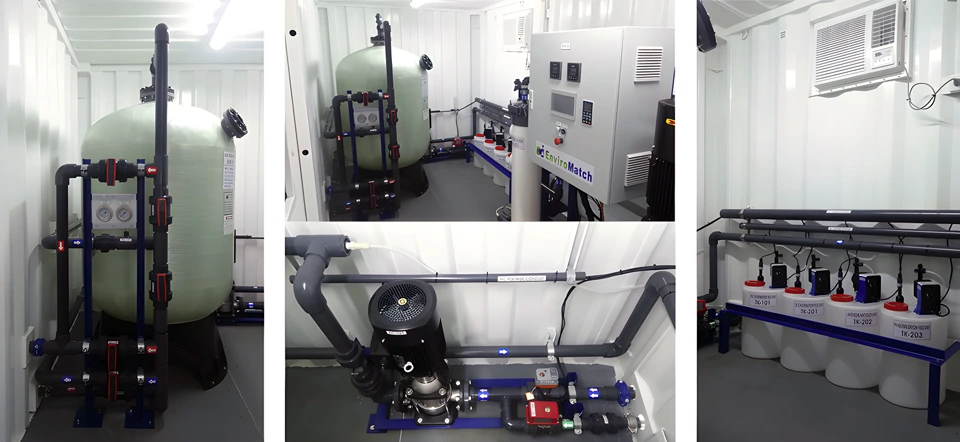 40ft. HQ Container
The system is housed in a 40ft. HQ container, which serves as a protective enclosure for the entire system. The container is designed to withstand harsh weather conditions, ensuring the system's longevity and durability.
Filter Feed/Backwash Pump Skid
The Filter Feed/Backwash Pump skid is responsible for feeding the multimedia filter and backwashing it to maintain optimal performance. The skid also includes a booster pump that increases the feed pressure to the RO system, enhancing its efficiency.
Pre-chlorination System
Pre-chlorination is a crucial step in the water treatment process, as it disinfects the water and protects against biofouling. The pre-chlorination system in the Containerized Brackish Water RO System ensures that the water is free of harmful microorganisms before entering the multimedia filter.
Multimedia Filter
The multimedia filter is responsible for removing suspended solids, sediment, and turbidity from the water. The filter comprises multiple layers of media, such as sand, gravel, and anthracite, that trap and filter out impurities.
Antiscalant System
Scaling is a common problem in RO systems, where minerals and salts in the water can form deposits on the membrane surface, reducing its efficiency. The antiscalant system in the Containerized Brackish Water RO System prevents scaling by injecting a specialized chemical that inhibits mineral deposition.
De-chlorination System
The de-chlorination system removes residual chlorine from the water after pre-chlorination, preventing it from reacting with the RO membrane and causing damage.
Brackish Water Reverse Osmosis System
The heart of the Containerized Brackish Water RO System is the RO membrane, which removes dissolved salts, minerals, and other impurities from the water. The brackish water RO system in this setup is designed to produce up to 50,000 gallons of purified water per day.
pH Neutralization System
The pH Neutralization System ensures that the purified water is at an optimal pH level, which enhances its taste and prevents corrosion of downstream infrastructure.
PLC Control
The entire system is controlled by a Programmable Logic Controller (PLC), which automates the system's operations, monitors its performance, and alerts operators in case of any anomalies.
Conclusion
The Containerized Brackish Water RO System is a game-changer for Qatar's water crisis. Its containerized design, coupled with its state-of-the-art components, makes it an ideal solution for remote areas with limited access to freshwater sources. The system's sustainable and cost-effective nature also makes it a viable alternative to traditional desalination technologies. Enviromatch's expertise in designing and supplying this system underscores the company's commitment to providing innovative environmental solutions.