(Wastewater Treatment Systems)
BioMatch T-MBBR
Looking for an effective biological wastewater treatment technology? Look no further than the patented BioMatch T-MBBR moving bed bioreactor (T-MBBR) technology. This innovative technology uses nearly 100% attached growth biofilm to maintain a high concentration of biofilm within the structure of biomass carriers that are kept in motion in very low attrition surroundings inside a super aerated chamber.
With stable biofilm, BioMatch T-MBBR accelerates the breakdown of organics, which reduces the wastewater retention time, increases tolerance to process upsets, and allows a high nutrient reduction capability.
Choose T-MBBR for a proven and effective biological wastewater treatment solution that utilizes cutting-edge technology to produce outstanding results.
Request a Quote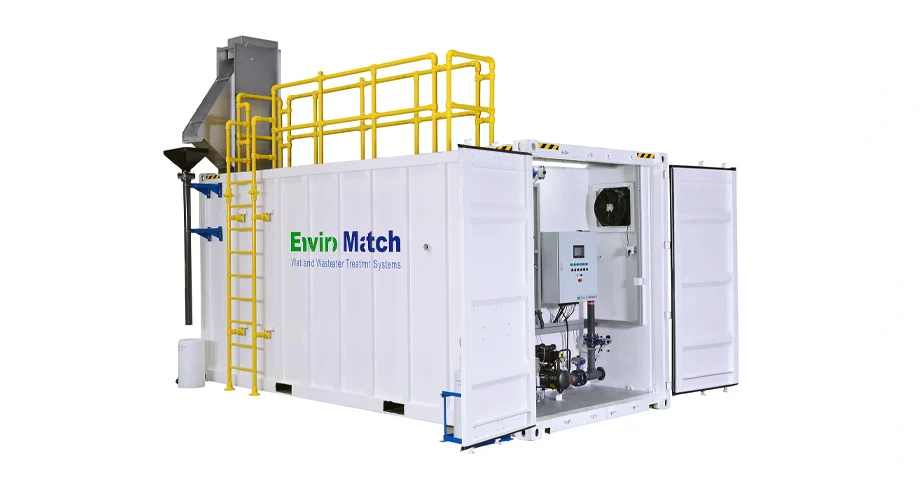 BioMatch advantages over conventional treatment
The Containerized BioMatch modules offer an innovative solution for domestic and industrial wastewater treatment. With standard 20ft or 40ft ISO shipping containers, these Modules are 'Plug & Play' Plants that can be delivered quickly, saving construction time. With capacities of 50 to 1200 m3/day, they are a compact and cost-effective alternative to traditional wastewater treatment plants. The efficient T-MBBR treatment technology ensures high BOD, COD, TSS, and nutrient reductions, meeting local discharge regulations.
The treated water can be safely used for irrigation or recycled for other uses, making it an eco-friendly option. The BioMatch system is simple to operate, requiring no special training, and is the most superior yet easy-to-operate biological wastewater treatment system available today. Choose the Containerized BioMatch Modules for reliable and cost-effective wastewater treatment.
50% less footprint/ retention time
30% less power consumption
80% less sludge volume
35% lower operation and maintenance cost
Easy upgrades to the existing system
Superior ammonia removal and far better odor control
Consistent BOD, TSS, nitrates, and phosphorous reductions that meet the most stringent discharge regulations
No cleaning program or cleaning chemicals are required like MBR
No special operator training is required or expensive components to replace
Suitable for municipalities, remote communities, resorts, and labor camps
Proven to address tough wastewater treatment applications at slaughterhouses and food & beverage processing plants
Standard features (Containerized System Components)
Anoxic Chamber with 4" inlet and drain connections
Aeration and reactor chambers
Set of PVC drop-down aeration piping and diffuser assemblies
Set of Fine bubble membrane diffusers
Set of Airlift hood
Set of SS304 wedge wire top & bottom isolation screens
Integrated clarifier, with settling media
Set of bottom air scouring assembly
Set of airlift assembly & set of weirs
Surface skimmer
Set of drain connections
Integrated up-flow automatic media filter
Set of pneumatically actuated butterfly valves
Chlorine contact tank with inlet and outlet connections
Set of Isolation valves for air pipes
Set of PVC water piping
Set of galvanized steel air piping
Set of 304 stainless steel bolts/nuts and fastening hardware
FRP handrail & FRP ladder & FRP grating walkway
Integrated equipment room
Set of PVC piping for automatic drain, automatic air scouring, and automatic diversion to the chlorine contact tank
Available options
380-415V/3 Ph/50Hz power supply, 220V control panel
Static screen with trash hopper
Self-cleaning, rotary drum screen
Equalization tank level control
Equalizing pump(s) with motor controls
VFD blower motor control
Feed pH controller/sensor
Feed ORP controller/sensor
Feed TDS / conductivity sensor
Custom designed units
Operating and performance specifications
| Model | No. of modules | Max (GPD) | Max (M3/D) | Eq. Pop. | Blower | Absorbed power | Space needed (ft.) |
| --- | --- | --- | --- | --- | --- | --- | --- |
| BMT-0050 | 1 | 13200 | 50 | 250 | 3 hp | 2.2 kw | 30L x 18W x 18H |
| BMT-0200 | 1 | 52800 | 200 | 1000 | 5.5 hp | 3.7 kw | 50L x 18W x 18H |
| BMT-0400 | 2 | 105600 | 400 | 2000 | 10 hp | 7.5 kw | 50L x 35W x 18H |
| BMT-0500 | 2 | 132000 | 500 | 2500 | 17 hp | 13 kw | 50L x 35W x 18H |
| BMT-1000 | 3 | 264000 | 1000 | 5000 | 2x17 hp | 26 kw | 50L x 55W x 18H |
| BMT-1500 | 4 | 396000 | 1500 | 7500 | 3x17 hp | 39 kw | 50L x 70W x 18H |
| BMT-2000 | 6 | 528000 | 2000 | 10000 | 4x17 hp | 52 kw | 50L x 85W x 18H |

– Containerized Bioshaft Modular Systems specific energy usage of 0.6 kwh/m are designed for Carbon removal and full nitrification purposes. They can be upgraded to treat wastewater with higher BOD and customized to reduce the space needed.
Related projects
Landfill Leachate Treatment
Dammam Paper Mill Recycle
Aramco-Bechtel STP
Topkapi Boya Textile Waste Recycle Treatment
View all
Do you need the BioMatch T-MBBR
Wastewater Treatment Containerized System?
Send us a message or call our office with any inquiries you have.